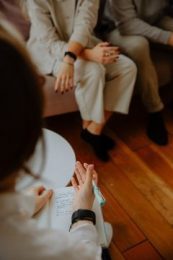 Make the most of your high school experience (academics, teacher/mentors, activities, sports, arts).
Make the most of this time in your life.
Only engage in healthy friendships.
Treat your body with great respect (exercise, eat good food, no sodas, eat breakfast, wait a while to have sex, get 9 hours of sleep…).
Don't do drugs/alcohol – take care of your brain.
Volunteer with special populations (Special Olympics, homeless, animal shelter, church, hospitals…).
Develop healthy activities other than screentime (art, writing, music, exercise, cooking, reading, poetry, martial arts, sports, meditation).
Consider talk therapy for yourself if you struggle with depression, anxiety, trauma, a medical problem, and/or any serious stress in your life.
Learn Spanish, Mandarin, Cantonese, Tagalog or Arabic so that you can work with diverse populations.